How to save for web
One of the most common questions I get, is how do I get my photos to look good also on web.
Some even fear posting photos, since the end product doesn't look the same after uploading it online.
Colors change and looks washed out, and the photo is no longer as sharp as it was in the post-processing.
Well, it is all about color profile and sharpening, and it is actually easy to fix.
Preparing the photo
Before saving, you need to do some extra sharpening. When saving for web the photo will lose some sharpness, and we don't want that.
There are several ways to do this, but I do both the sharpening and the saving in Photoshop.
If you are willing do spend a few dollars, one easy way is to buy an Photoshop action. This also speeds up the process every time you're saving a photo for web.
I use an action called TK-actions which is a fast and easy way to sharpen. When using this, you only need to set the vertical or horizontal size and the action fixes the rest.
But there is also an easy way to do it in Photoshop, by using Smart Sharpen.
Duplicate the layer and then go to Filter –> Sharpen –> Smart Sharpen.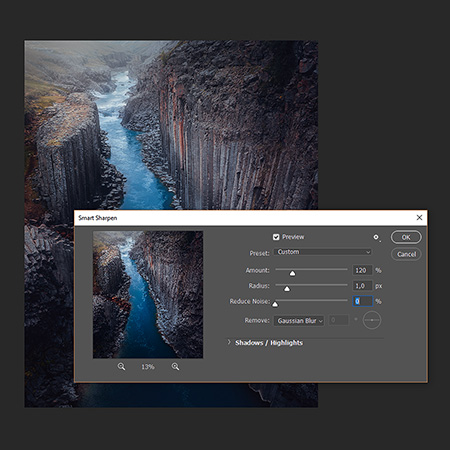 How much sharpening to apply will depend on what photo you're sharpening, but you should sharpen it until it looks too much.
That way it will look sharp online. A good start is setting amount to 120, radius to 1 and 0 on reduce noise. Then zoom in and see what setting will look best.
If you sharpen too much, you will get haloing around the edges, so pay particularly attention to that.
If you still want to sharpen it that extra, you can avoid haloing by setting the sharpened layer to darken. Then duplicate that layer and set the next layer to lighten.
And since the sharpened photo is on a layer, you can also reduce opacity if you feel you sharpened too much.
To make it look even better, you should avoid sharpening the whole photo with the same amount.
But only sharpen the parts of the photography that should look sharp.
In the photo I have used as an example I would sharpen the rock columns the most, and less on the rest of the photo.
And the best way to do that is by using layer masking. I will not go into that in this article, but you can learn about it in my post-processing tutorials.
Choosing image size and saving for web
So now that the photo is sharpened, you will need to set the size to save it in.
If you're saving for Instagram, set the width to 1080 pixels. The ideal size here is 1080×1350 pixels, which means a 4:5 ratio crop.
And when you post it on Instagram, be sure to sharpen it also here by going to edit –> sharpen in the app.
This works very well and you and easily push it to 70-80 without destructing it, and will give your photo extra punch on Instagram.
For Facebook 930 pixels if it is a vertical photo, and 1200 if it is horizontal. You can set them bigger, but Facebook has A LOT of compression on the photos.
So I find that saving them a bit smaller, will give me some extra quality to save in. And they will therefore look sharper.
If you are saving for your homepage, save it in the size you want.
When the size is set, you might want to add some extra sharpness again. But this is all a matter of taste.
Then go to File –> Export –> Save for web (Legacy)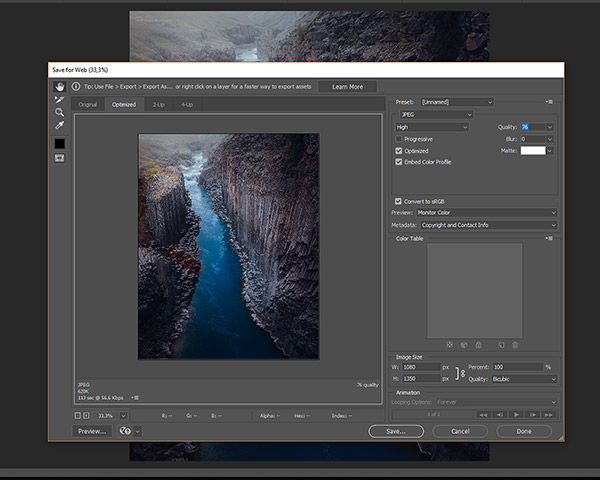 The important thing here is to make sure that Convert to sRGB is checked, which is the color space used for monitors and screens.
If you're saving for Instagram set the quality so the photo will end up around 600-650kb.
For Facebook you need to save it below 100kb to avoid compression, which is usually impossible without loosing a lot of sharpness.
So I set the quality to 70 when saving for Facebook.
If you're saving for you homepage, save it in the size you want. But for a SEO point of view, you should compress your photo also here.
And that's it, your photo is ready to be shown to the world!
Recent articles
The Orton effect In this article I will show you how to create the softening technique called the Orton effect in Photoshop. This is probably one of the most popular post-processing techniques [...]
Photography workshop in Norway UPDATE: Due to the corona situation, the workshop has been moved to summer 2021. Stay tuned for the new dates. Happy to announce I have teamed up with [...]
How to create light rays in Photoshop Light is an important part of photography. But often you may experience that you have a cool motive, yet the light is not that exciting. [...]
Let's Work Together
TELL ME MORE ABOUT YOUR PROJECT